BERTOLD HUMMEL was born on November 27, 1925 in Hüfingen (Baden). From 1941 to 1954, he studied at the Music Academy in Freiburg i. Breisgau, taking composition with Harald Genzmer and violoncello with Atis Teichmanis. After his studies he toured from 1954 to 1956 as composer and as cellist. From 1956 until 1963, Hummel was choirmaster in Freiburg i. Brsg. and worked as a freelancer in radio with Südwestfunk Baden-Baden, before being named teacher of composition at the state conservatory in Würzburg in 1963. From 1963 to 1988 he directed the Studio for New Music, Würzburg, and in 1974 he became a professor. From 1979 to 1987 he was President of the Music Academy in Würzburg (after 1988 its Honorary President) and from 1982 Member of the Bavarian Academy of the Fine Arts. He lectured as a guest and travelled to performances of his works in Europe, in the USA, South America, Canada, CIS, Japan, Australia, Egypt and South Africa. Bertold Hummel died in Würzburg on the August 9, 2002.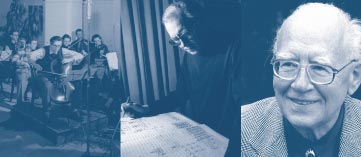 Awards: 1960 Composition Prize of the City of Stuttgart. 1961 Robert Schumann Prize of the City of Düsseldorf. 1968 Fellowship for the Cité des arts internationale de Paris, 1988 Culture Prize of the City of Würzburg. 1996 Friedrich Baur Prize of the Bavarian Academy of the Fine Arts. 1998 Culture Prize of the German Catholics.
Principal works: Oratorio: The Shrine of the Martyr; chamber opera The Emperor's New clothes; 2 ballets: The last flower and Scenes from Faust; 3 symphonies; Visions (after the Apokalypse of St.John) for large orchestra; Sinfonietta for large wind orchestra; concertos for solo instruments and orchestra (Concerto for percussion op.70); 5 masses; cantatas; motets; song-cycles; chamber music; organ works; electronic compositions and music for children.